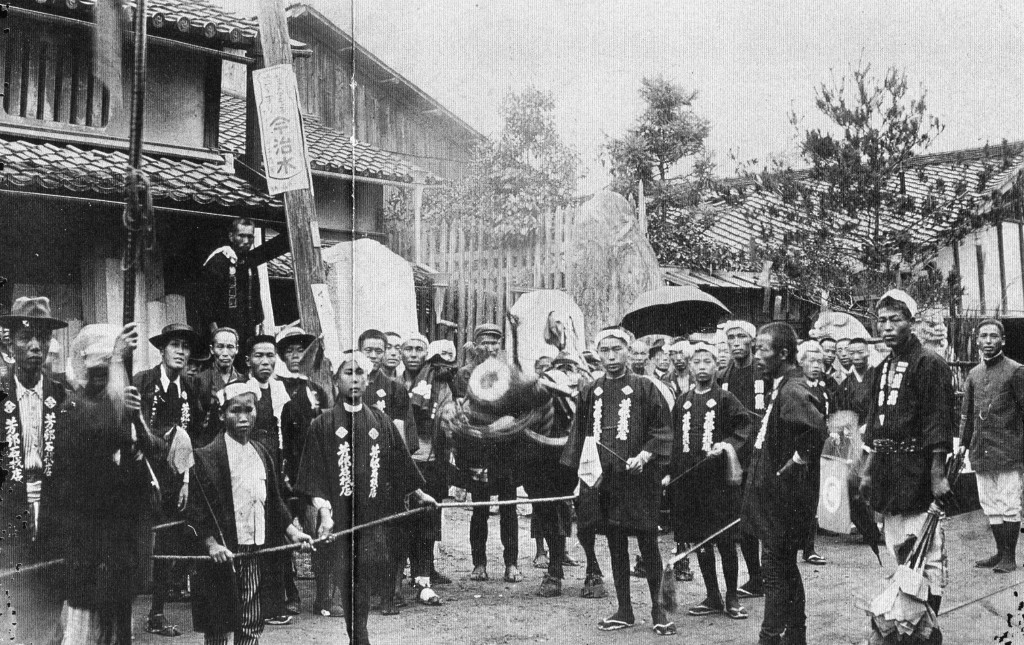 Thank you for visiting our English page! We are Yoshimura Stone Co., Ltd. in Kyoto, Japan. Our company was founded over 300 years ago, and have kept the tradition of stone culture in Kyoto and many other areas in Japan.
If you are looking for Japanese traditional stone interior (such as Jizo statues or stone lanterns), please check our online store "ISHIMO". Also, if you have a chance to visit to Kyoto, please stop by our shop!
–
ISHIMO -original natural stone items-
–
Access to Our Shop
–
Stone and Japan (ISHIMO's English blog)
MENU
1. Stone Lantern
2. Stone Statue
[su_divider top="no" style="dotted" divider_color="#fbcdcd"]若王子山墓地
大日山墓地
地蔵山墓地
清水山墓地
宝塔寺山墓地[/su_divider]
STONE LANTERN
HISTORY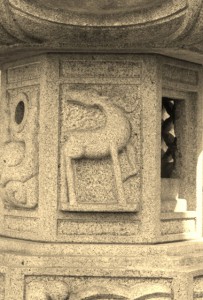 Along with the introduction of Buddhism, stone lanterns were brought from China to Japan during the ancient times. They were originally used as lights placed on a family altar, however, people in the past gradually started to use them in Shinto shrines. The function of stone lanterns at shrines was not only lightning, but also making the solemn atmosphere around the place. It has been said that a single lantern was placed at the center of structure's forefront in early times. Good examples of this can be seen at To-Tou (東塔) at Yakushi-ji Temple in Nara Prefecture, and Interior of Phoenix Hall at Byodoin Temple in Uji City. From the Momoyama Period (1573-1603), stone lanterns were often placed as a pair, same as we used to see these days. Just like other stone art works, many stone lanterns were made during the Kamakura period which Buddhist greatly flourished. Along with the spread of religious faith across the samurai class and ordinary people, the number of donations of stone lanterns to main temples and shrines was gradually increased. As a result, a great number of stone lanterns can be seen along approaches of shrines and temples today.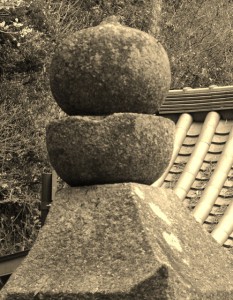 Apart from these functions, as the culture of chanoyu developed during he Azuchi-Momoyama Priod,stone lanterns started to play another important role; it was located at tea gardens as an object along with washbasins and stepping-stones. During the Edo Period, stone lanterns at tea gardens developed into unique shapes, such as Oribe (織部), Misaki (岬), and Yukimi (雪見). It has been said that the first person who introduced lanterns into tea gardens was Sen Rikyu, a tea master who perfected chanoyu. Thereafter, stone lanterns spread into the common people's gardens and frequently seen in Machiya (町家), traditional wooden houses in Kyoto. Nowadays, however, less and less stone lanterns could be seen due to the decrease of Machiya itself. After the World War II, there was a constructing boom during the period of rapid economic growth. At that time, a great number of people placed stone lanterns in their own single-family houses. We also build many lanterns in Kyoto, Osaka, and Kobe, thanks to the sales on TV shopping and department stores. Even though the number of stone lanterns is lesser than it used to be, due to the increase of complex housing, the adoration toward "wa (和, Japanese traditional style)" still remains these days. Consequently, many of the elderly and foreign people contact us to look for stone lanterns.
BASIC STRUCTURE
The basic shape of stone lanterns is composed from seven layers; Hōju (宝珠, jewel), Ukebana (請花, receiving flower), Kasa (笠, umbrella), Hibukuro (火袋, fire sack), Chūdai (中台, central platform), Sao (竿, post), and Kiso or Jihuku (基礎/地覆, foundation). Most stone lanterns were originally placed in Buddhist temples. Famous types of lanterns located in temples include Kasuga style (春日型), Okunoin style (奥の院型), and Yūnoki style (柚木型). Other lanterns were created as objects placed at personal gardens and tea gardens. Yukimi style (雪見型), Oribe style (織部型), Kashu-ji style (観修寺型), and Rankei style (蘭渓型) lanterns were categorized as this group. One mason in Okazaki, Aichi Prefecture, mentioned that Kasuga and Yukimi style lanterns were particularly popular in past days. Recently, however, people put more emphasis on their own preference, so orders he takes became more various.
PRODUCTION REGIONS
Stone lantern-producing areas have also been known as famous quarries since old days. When there were still Shirakawa Granite (白川石) in Kyoto, masons produced a various kind of stone products including lanterns in that city as well. You can still see stone lanterns with the name of our company's president at that time, "Yoshimura Mouemon , a mason in Horikawa(堀川石工 芳村茂衛門)" in Kitano Tenmangu Shrine and Toji Temple. There are still skillful masons working in Kyoto. Therefore, when customers desire the professional work by masons in Kyoto, we are able to collaborate with them.
Not only in Kyoto, we also collaborate with masons in many cities where there are still inherited tradition and technique, such as Aji, Okazaki, and Izumo. These production areas have maintained the technique of professional masons with historical evidence, since the whole village has long been flourished in stone products for a long time.
PERFECTION LEVEL OF STONE LANTERN
Although many stone lanterns are made in China recently, most of them do not really have plump shapes, which is an original character of Japanese products. Detailed work, such as kotataki (小叩き, finishing tap) done by Chinese masons are different from that of Japanese masons, and these small differences can greatly affect the appearance. Naturally, Japanese products are priced higher than Chinese ones, The price of Japanese products would be higher than that of Chinese products. So we recommend you to purchase Chinese stones and be processed by Japanese masons.
[su_button url="https://kyoto-ishiya.jp/englishpage/types-of-stone-lanterns/" style="noise" background="#4038f7″ color="#ffffff" size="10″ icon="icon: arrow-circle-right"]Check Our Stone Lanterns[/su_button]
[su_divider text="Back to Top" style="dotted" divider_color="#fbcdcd"]若王子山墓地
大日山墓地
地蔵山墓地
清水山墓地
宝塔寺山墓地[/su_divider]
STONE STATUES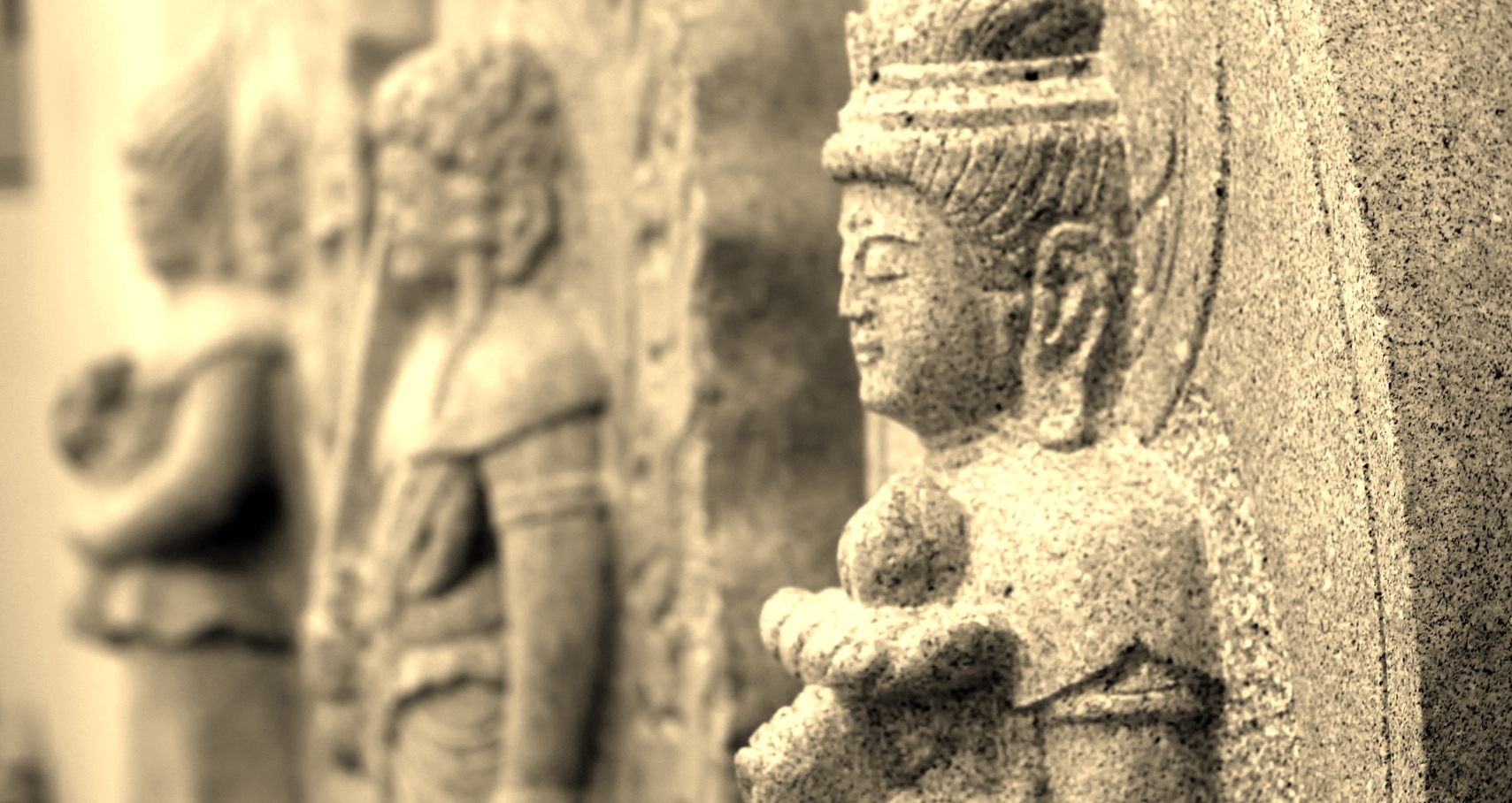 How to Classify Stone Statues
Stone statues can be grouped into two classes according to its condition and location. The first ones are statues which were directly curved on natural rock surfaces, such as Magai-butsu (磨崖仏), Buddha figure carved on a rock face, and Sekkutsu-butsu (石窟仏), figures carved in a cave. Another class is statues which are carved after cutting out natural stones.These are independent Buddhist statues, such as boat-shaped Jizō and standing Kannon statues.
As far as Magai-butsu is concerned, Usuki-sekibutsu (臼枡磨崖仏) in Oita Prefecture is especially popular in Japan. Around Kyoto, however, Kokuzo Sekimagaibutsu (虚空蔵石磨崖仏) in Kasachi-ji Temple and Miroku Magaibutsu (弥勒磨崖仏) in Ono-ji Temple are also famous. Both temples are located on the border of Kyoto and Nara, and you can see a number of small Magai-butsu around the place.
There is another way to classify stone statues; categorizing by curving technique. They are categorized into two classes; Inkoku (陰刻) and Yokoku (陽刻). Inkoku is to curve line, shapes, and letters on the surface of statues. In contrast, relief carving is called Yokoku. Furthermore, there are three techniques in relief carving; Usuniku-bori (薄肉彫り), Hanniku-bori (半肉彫り), and Atsuniku-bori (厚肉彫り). These are grouped according to the In fact, masons often carve statues by using all of them. For example, in order to create boat-shaped Thousand Armed Avalokiteshwara statue, Usuniku-bori is used to carve his arms holding various kinds of items, though most parts of the statue was carved by using Hanniku-bori and Atsuniku-bori. Marubori (丸彫り), another technique which enabled us to see all the parts of a Buddhist statue including his back, was created by refining these three techniques.
TYPES OF STATUES
Popularly known Buddhist stone statues in Japan include Shaka-nyorai (釈迦如来), Dainichi-nyorai (大日如来), Amida-nyorai, (阿弥陀如来), Yakushi-nyorai (薬師如来), Kannon-bosatsu (観音菩薩), Jizo-bosatsu (地蔵菩薩), Miroku-bosatsu (弥勒菩薩), and Fudo-myou (不動明王).
Among them, Kannon (the Goddess of Mercy) has a variety of types, such as Sho-Kannon, thousand armed Kannon, Kannon with horse-head, and eleven-faced Kannon. There are many types of Jizo (Ksitigarba) as well, such as Rokujizo (the Six Ksitigarbhas) and Mizuko Jizo (Jizo for the spirits of aborted children).
In general, there are five types of Buddhist statues; Nyorai (如来 / Tathāgata), Bosatsu (菩薩/ Bodhisattva), Myō-ou (明王 / Wisdom King), and Ten (天 / Deva). However, compared to wooden statues which depict all of these kinds, it seems that the types which can be expressed as stone statues are limited.
The reason for this is probably as follows: wooden statues are supposed to be placed at the center of a grand and gorgeous temple and respected as the main image of the temple. Many of them were created by people in authority such as the nobility and politicians, on the purpose of praying for the national peace. In contrast with this, stone statues were often created by the common people. People put the statues outside because it was easier to worship than putting in grant temples. The ordinary people's wishes were not the national peace. They prayed to make their daily lives happier. Among these people, Kannon and Jizo were widely loved because it was believed that these images can help the people. That was why the types of stone statues, which were often placed outside, are limited.
[su_divider text="Back to Top" style="dotted" divider_color="#fbcdcd"]若王子山墓地
大日山墓地
地蔵山墓地
清水山墓地
宝塔寺山墓地[/su_divider]
ABOUT US
"石茂" is pronounced as "Ishimo." It is our original character made of two joining elements; 石, meaning stone, and 茂 for 芳村茂右衛門 which is the succeed name of our company. This character has long been recognized as our symbol, being used as our house name, since the foundation. It has been said that our company started to use 石茂 in the early Edo Period. However, the history of masons in Kyoto is much longer than that. According to the historical records, many masons were working in Kyoto during the Heian Period.
It has been said that Japan has "the culture of wood and paper," because the wooden building is the basis of the Japanese culture. However, the important thing to mention is that stones were always used as the foundation, on the purpose of preventing buildings from natural disasters, such as rain, wind, and earthquake. Stones play important roles in various ways. Stone walls, bridges, fences, and pavements improve the surroundings. Stone torii gate, monuments, and Buddhist statues are objects of worship. Furthermore, stone lanterns and washbasins are placed as ornaments in Japanese gardens. In short, stones has fitted in the Japanese culture and society and been used in daily life from ancient times.
Kyoto, the ancient capital of Japan, has a great number of temples, shrines, machiya (traditional merchant houses), and tea gardens. Even nowadays, you can still see many kinds of stone products at these spots. It means that stones protect "the culture of wood and paper" of Kyoto. As a stone company in Kyoto, we would like to keep maintaining the culture of stone. With our family motto "お客様大事 (Think the Customer First)" we do our best to provide good products and good craftsmanship at good prices.
[su_divider text="Back to Top" style="dotted" divider_color="#fbcdcd"]若王子山墓地
大日山墓地
地蔵山墓地
清水山墓地
宝塔寺山墓地[/su_divider]
PURCHASING INFORMATION
<<English speaking staff is available>
If you want to purchase products which we don't have, we can look for your request on production areas and make a estimate.
Credit cards accepted (Visa or MasterCard).
If the product is light enough to carry, you can bring it back on your own. (Since most products are heavy, please be careful when you carry.)
If you need our professionals to install the product, installation fee is added separately.
You can mail the purchased product to everywhere in Japan. Packing and mailing fee are added separately.
If you live in overseas, you can send the purchased product to your country. Packing and shipping fee are added separately. It can take several days to estimate the fee.
You can contact us through email.

CONTACT
LOCATION
[map]6028043[/map]

Address: 5-208, Sawaragi cho, Higashi Horikawa dori, Kamigyo Ku, Kyoto City, Kyoto, Japan 6028043
access page for more details